SecuraMax is a video storage and management solution specifically designed for law enforcement agencies. Videos can be uploaded from body worn cameras, in-vehicle DVR units, or directly through the web interface. Users can add information to the videos to aid in associating the videos with tickets or cases. Videos can be assigned categories to set the storage retention period based on agency policies. Videos can be shared internally or externally to users while still allowing auditing of all actions for validation in court.
Daily Use:
Each day users will capture video from their vehicle or body worn camera.

Vehicle systems will automatically upload all events over Wi-Fi or 4G. Body cameras will automatically upload all video when docked for charging.

After upload, each user will login to SecuraMax and review their upload(s), they will assign new categories to the videos and tag any relevant information.

If needed for a case or incident, users can search and review videos or share to other individuals.
Navigating the Site:
Each agency has a unique URL for their SecuraMax site, contact you administrator to get your URL.
Once logged in you will land on the home page, this page displays all important information for daily use.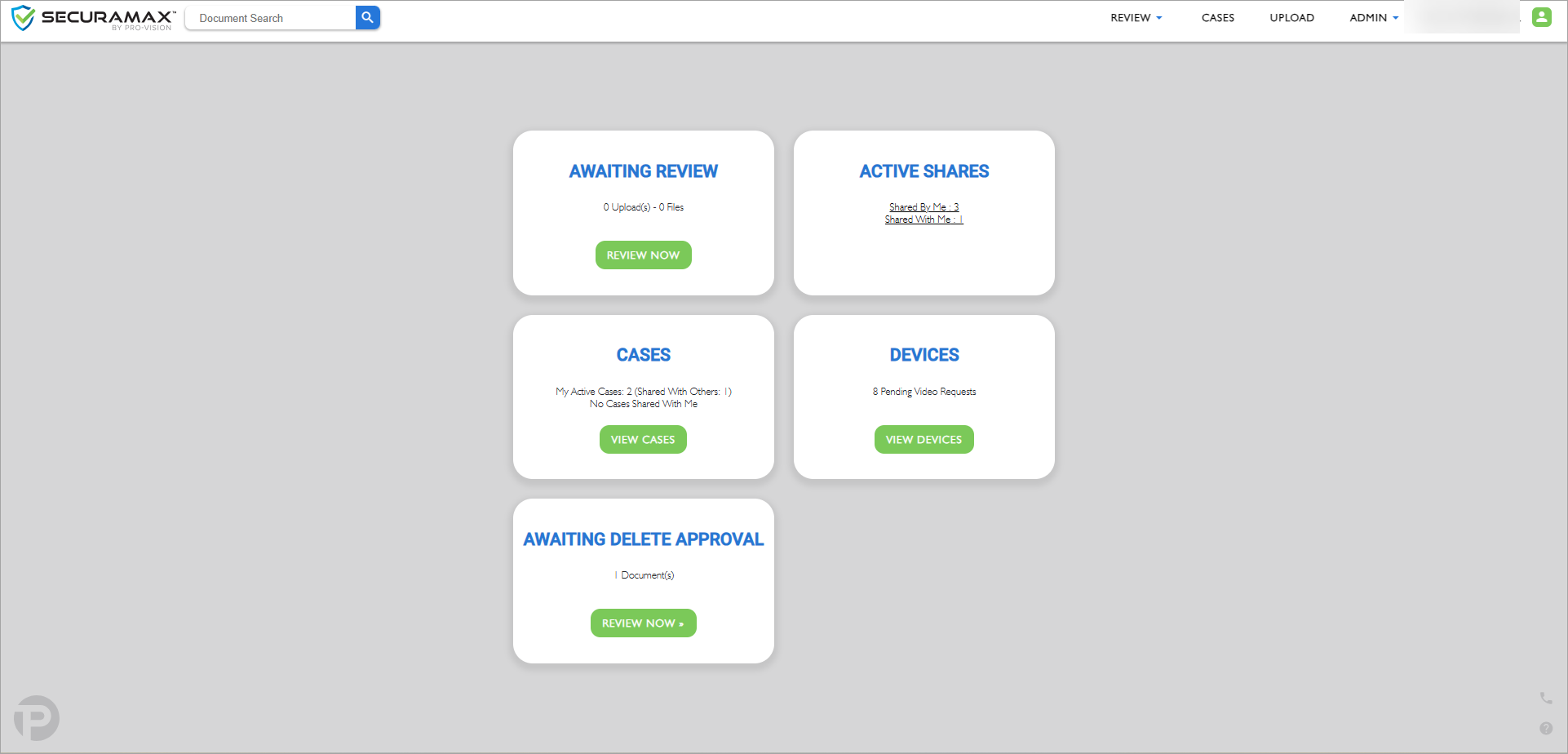 Reviewing Uploads
If a new upload has occurred, it will show as "Awaiting Review" on the home page, simply click "Review Now" to start reviewing.

Each day uploads are made a review button will show for that date, select the desired upload date and click "Review"

The files uploaded on the specific date will be shown with a thumbnail image and their starting time. If needed, use the button to view more details and/or watch the video to recall its contents.

Select the desired file to review, enter the details at right and then click "Complete"

Repeat step 3-4 for each file until all files are review.
Uploading Files Manually
Files from recording systems are uploaded automatically, files that need to be categorized from other sources can be manually uploaded by using the upload button in the top navigation bar.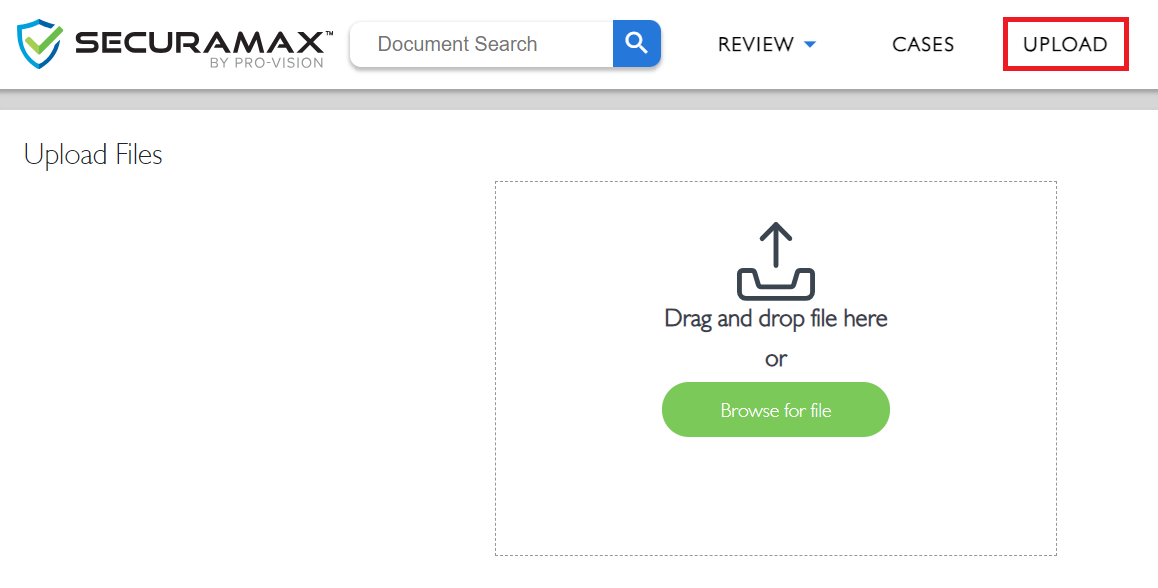 Locating Previously Uploaded Videos
The document search box is used for locating previously uploaded videos. Enter any known file details (such as the Date of the File Creation, Title of the File, Tags, etc.). Or click on the search icon and all available files will be displayed.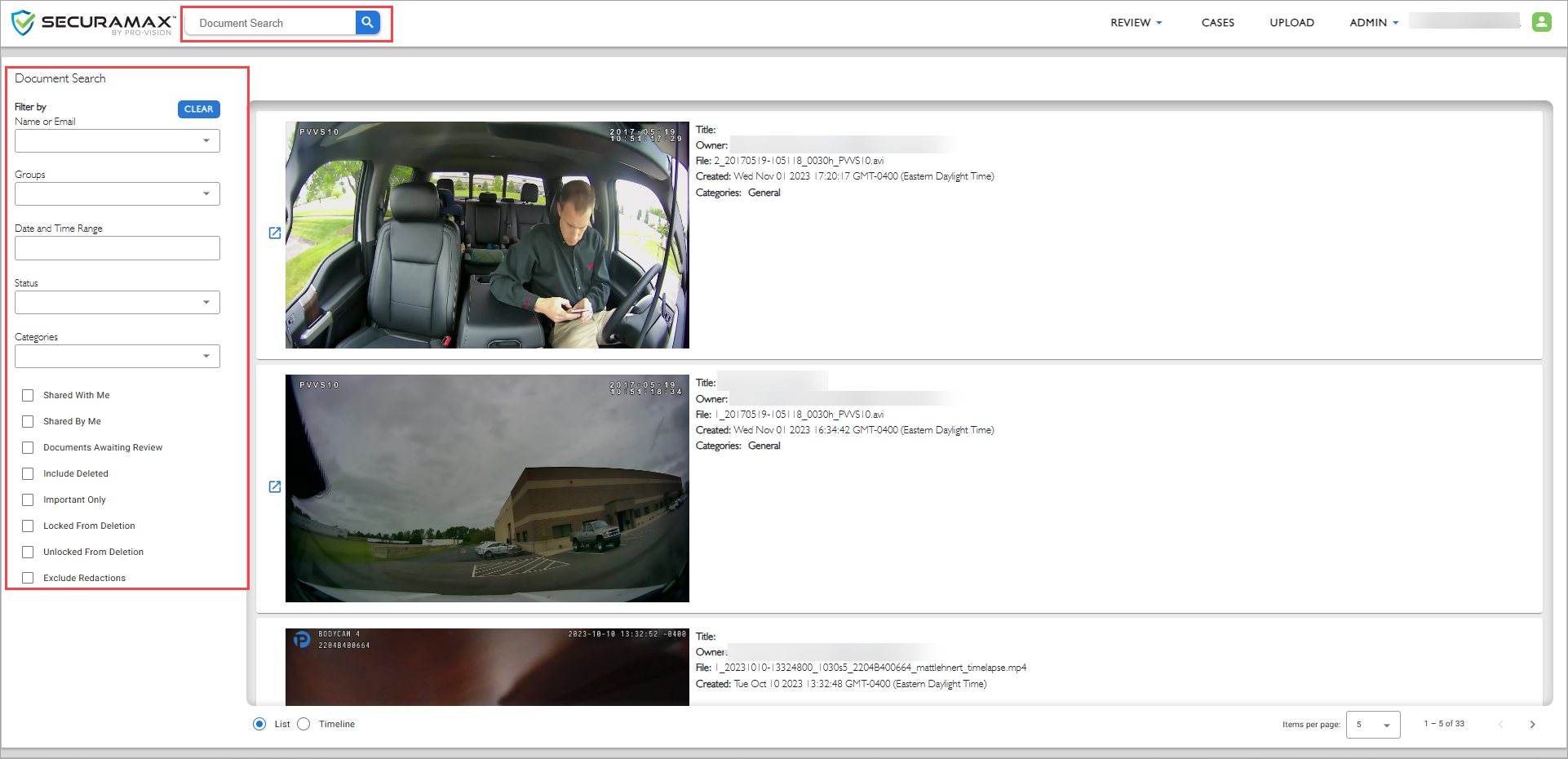 On the Document Search results page, a number of filters can be used to narrow the search criteria to find the desired file (Name or Email, Groups, Date and Time Range, Status, Categories, etc.).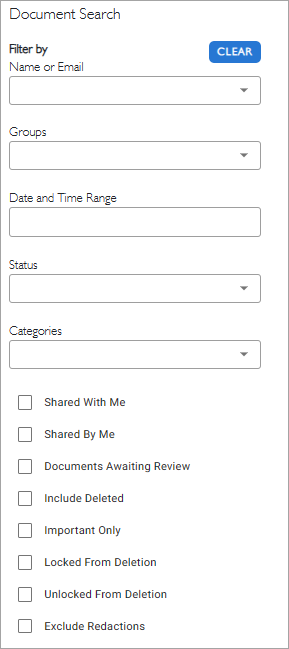 Understanding User Permissions:
Each user has permissions that are set by the agency administrator and are typically restricted to the minimum necessary for user operation. Typically users are granted access to all files that they have uploaded and sometimes files uploaded by their necessary peers within their role. Search results will only show files on SecuraMax that the currently logged in user has permissions to see. If you cannot locate a video, its possible that it is on SecuraMax but it was assigned to a different user that is not viewable from the current user's permissions, check with your administrator if you cannot locate a file. Other permissions are typically assigned based on role, for example, "Delete Approver" permissions is required to have files deleted from the site before their normal retention period is completed.
Where do I go from here?
Return to the SecuraMax help page to view more detail resources for all of the SecuraMax features.