The DR-200 Drive Recorder unit is a self-contained recording system. It combines the functions of a traditional mobile DVR unit, forward-facing camera, interior camera, GPS antenna, and event marker button into a single housing.
The unit can only be accessed wirelessly using a laptop, tablet, or smartphone device while in AP Mode. If the unit has previously been configured, it may be in Client mode (configured for connection to a building or other AP) and will need to be temporarily switched to AP mode for connection.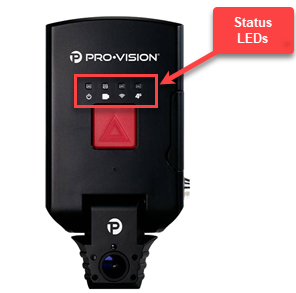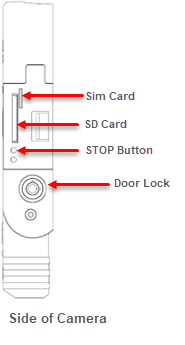 Connecting to the Unit:
Ensure that the DR-200v2 unit is powered on (solid green power LED) and that the Wi-Fi is on (flashing slowly yellow Wi-Fi LED). The yellow LED will flash slowly until a device is connected to the local SSID (network name) that the DR‑200v2 is broadcasting. Once a device is connected, the Wi-Fi LED will be solid. It will briefly flash to indicate data transfer.
(1) Power | (2) Recording | (3) Wi-Fi | (4) 4G

There are two connection modes - AP mode (default) and Client mode. Before switching from AP mode to Client mode, all settings should be configured. Settings can only be changed in AP mode.

On a Wi-Fi-enabled device (laptop, smartphone, or tablet), go to the Wi-Fi settings and connect to the Wi-Fi with the name "PV_DR_xxxxxx" and the password "doesitall". If the unit has already been configured, the Wi-Fi may be renamed. "xxxxxx" stands for the last 6 unique characters of the device's MAC address.

MAC Address: MAC addresses are unique numbers used to identify networked devices. The MAC address can be used to locate the device on the network. If you intend to connect the device to your local network, it is recommended to record the MAC address of each unit for future reference. If the device has been connected to the network, you can find it from a Windows PC on the network by opening "command prompt" then using the command "arp -a" to view the current Address Resolution Protocol (ARP) cache and then locating the devices MAC from the list of all devices on the network and viewing its associated IP address.

Open a web browser software application such as Google® Chrome®, Mozilla Firefox®, or Microsoft Edge®. Type "192.168.10.254" in the browser address bar and press enter.

Navigate to the desired page: Live View (Live Video), View Files, System, or Settings. When you click on the desired page, a password prompt will appear. Enter the appropriate username/password. The default user accounts/passwords are listed below.

Device details are displayed on the right-side of the screen.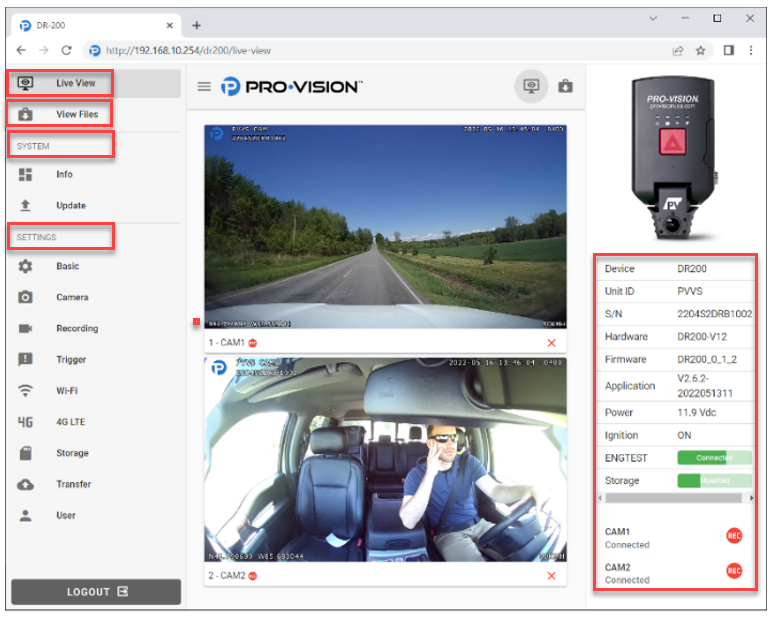 Default Login Credentials:
| Username | Password | Role |
| --- | --- | --- |
| admin | doesitall | Full Access |
| liveview | seethecams | Only View Live Cameras |
| playback | watchvids | Only Play Video |
| settings | changeitems | Only Change Settings |