The PV Transfer client application provides the integration between the Connect (ECB) server and users. It can be launched through the desktop shortcut, a Start menu shortcut, or through the Pro-Vision Player by clicking "Vehicle List."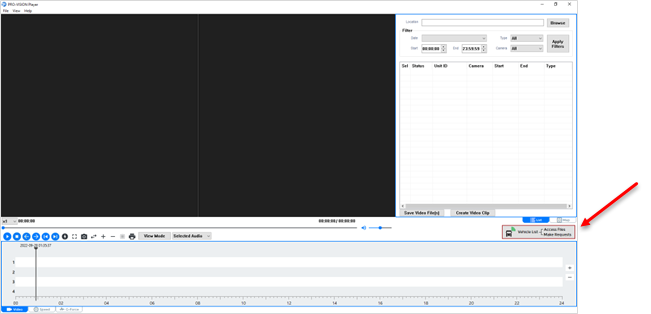 Navigating the App:
Vehicles The "Vehicles" page opens. Details will be displayed for the model type, unit name, serial number, and last connection date of each unit. Double-click on a vehicle unit to get more details and access videos from that specific unit.

Requests Selecting the vehicle unit opens the vehicle details page. This page displays information related to the unit, and requests and transfers. The "Requests" window shows requests and the status of them.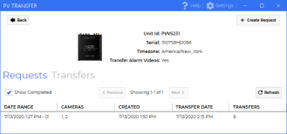 Transfers Clicking "Transfers" will show all transferred files by event and event type.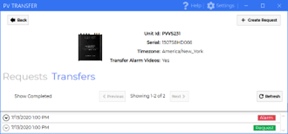 Creating a Video Request
To create a video request from the "Vehicles" page, double-click on the desired vehicle to view its details page.

Click "Create Request" in the upper right corner to open the "Make a Video Request" window.

Select the start "From" date/time and then choose the desired length of time for the request. Shorter time lengths will transfer fastest.

Click on the desired cameras to select them. Note that the reference thumbnail images from the cameras are not current images, but rather reference images to show what view/area the camera covers.

To receive an email confirming the request has been completed, check the notification email box and enter a recipient email address.

Click "Create" to create the request and return to the previous page.

To check the status of the request, open the vehicle from the vehicle list and look at the requests at the bottom of the page to see the status. If the vehicle is connected and may transfer immediately, click the "Refresh" button to view the current status.