PD-1902 Ranger | DVR-908
Capable of recording 10 cameras simultaneously, Pro-Vision's Ranger DVR is the ideal solution for vehicles that need more than three cameras or for those integrating with side- and rear-vision systems.
Front of DVR (Buttons/LEDs/Storage Options)

Connection Diagram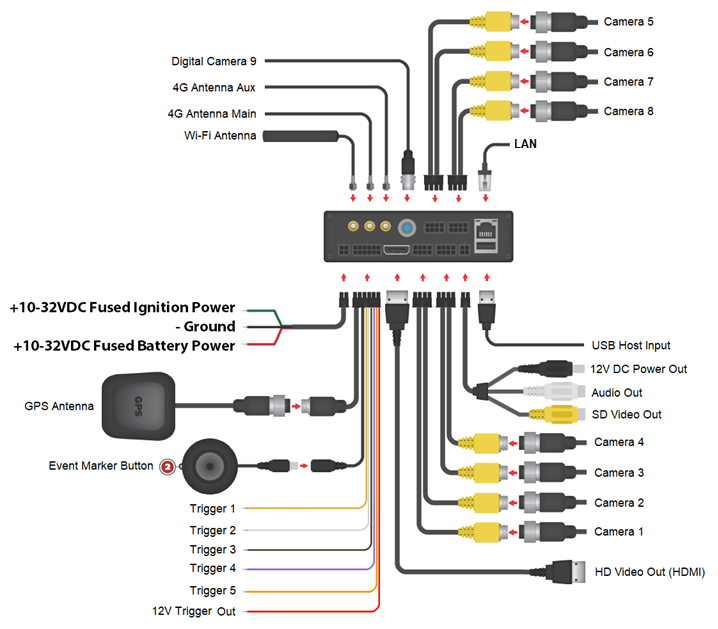 Parts Identification
Front of DVR:
1. SDXC Card Slot
2. Record STOP Button
3. 4G Status Indicator
4. 4G SIM Card Slot
5. Solid-State Drive Tray
6. System Status Indicator
7. Operational Status Indicators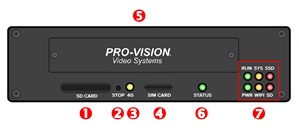 Rear of DVR:
1. Power Cable Connection
2. GPS/EVT/Triggers Cable
3. HD A/V Output Connection
4. Analog Camera Input Connections
5. A/V Output Connection
6. USB Port
7. LAN Port
8. Digital HD Camera Input
9. Wi-Fi Antenna Connections
10. 4G Antenna Connections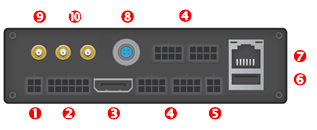 Specifications
Storage
Supports up to 4TB Solid-State Drive and 1TB SDXC Card
Inputs
10 at 1080p (8 AHD and 2 DHD)
Outputs
HDMI (to display screen)
Sensors and Event Marking
3 Axis Accelerometer (G-Force)
GPS Receiver
Custom Event Triggers
Networking
Built-In Wi-Fi Access Point
Network Port
Optional 4G Modem
Size
5.4"(L) x 5.2"(W) x 1.2"(H)
16.5 oz (1.03 lbs)
Security
Secure Locking Cage
Password Protected DVR Wi-Fi
Format
AVI Non-Proprietary/Universal
Installing the Power Cable
The power cable provides power to the unit and controls when it is on or off. Make sure the primary battery power connection is to a reliable 12V-24V DC power source. The cable may be routed from either direction.

RED
Fused 12-24V DC Battery Power: The battery power wire should be connected to an always-on power supply on the vehicle. The connection should include a 3A fuse and be on its own dedicated circuit. If possible, connect the unit directly to the positive terminal of the vehicle's battery through a 3A fuse.
GREEN
Key ON Ignition Signal: Signals the unit that the vehicle is ON. It can be connected to a 12-24V DC ignition source (Fused), or to a ground-level ignition source. If using a ground-level ignition source, the wire must first be connected to a 12V source, and the setting for "Ignition Level" changed to LOW in the power menu.
BLACK
Chassis or Battery Ground: The ground wire connects directly to a clean grounding stud/screw or directly to the negative terminal of the battery.