SD Rear Camera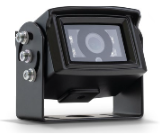 The SD Rear Camera (Camera P/N: CAM.313C/8010050) is designed for mounting in the rear of the vehicle. It can be mounted at the top of the rear area for easier wiring and a better field of view. The camera bracket allows for flexible mounting above, below, or directly to the mounting surface. The camera has infrared (IR) LEDs that provide illumination during low light/dark conditions. The camera also has a waterproof microphone built into the camera housing. The camera lens has a wide 110° horizontal and 60° vertical coverage.
Mounting Location and Installation:
This camera is often used on the outside rear of heavy-duty vehicles, such as box trucks and tractor trailers, to provide video capture of backup incidents and observation behind the vehicle. The camera can only be mounted to a horizontal surface, above, below, or directly to the mounting surface with adjustments up to 180°. The camera mounting screw holes allow the camera to be aimed left or right after mounting.
Determine the best mounting location for the camera. Connect the camera temporarily to observe the view and find the best mounting location.

After identifying the mounting location, mark or measure the two (2) mounting screw hole locations in the bracket (shown in ORANGE below). If necessary, remove the camera from the bracket.

When the cable runs through the vehicle body, it is often routed through a 3/4" hole drilled directly in the center of the vehicle body behind the bracket (shown in RED below). Mark and drill this hole as needed. Remove any burrs or jagged edges from the hole to prevent damage to the cable.

Install the camera bracket to the marked locations from step 2 (shown in ORANGE below). Ensure the bracket is oriented for the proper aim shown in the image (below). If needed, flip the bracket 180° to allow proper adjustment.

Install the camera in the bracket with the six (6) screws, metal washers, and nylon washers as shown below. Leave the screws slightly loose until the final camera aiming is completed.

Route the camera cable through the mounting hole in the center of the bracket (if applicable) and install a grommet or put adhesive around the cable to provide a seal with the hole.

Route and install the extension cable(s) to the camera's final mounting location and connect it to the camera. Leave enough slack in the cable to allow removal for service in the future (typically 4"-6").

Adjust the camera for proper view.

After the camera is aimed, tighten the six (6) mounting screws on the sides of the camera.