AHD Mini-Dome Camera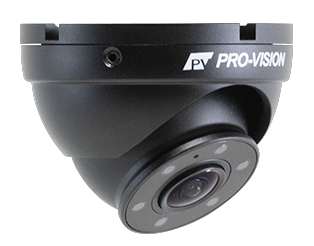 The AHD Mini-Dome Camera (Kit P/N: DVR-921 (9000168), Camera P/N: PC-1921 (8010034)) is designed for inside a vehicle. It is used most often inside the passenger seating areas inside buses and trains, but it is also effective in the cargo area of box trucks and vans. It has a built-in microphone for audio recording and built-in night vision LEDs with an automatic sensor for capturing video in low-light conditions and has 170° horizontal and 90° vertical coverage.
Mounting Location and Installation:
The ball and socket dome design allows 360° rotation around the base, 180° adjustment perpendicular to the base, and 360° rotation to level the image. The camera is typically installed with the cable going through a panel directly underneath the mounting location to hide the cable, but it can also be installed where the cable exits the side of the base if there is no room to route the cable behind the camera's mounting location.
Disassemble the camera by loosening the three (3) hex head set screws located on the locking ring. Lift up on the locking cover and remove it from the camera assembly. Remove the camera ball and pull the cable through the mounting base.

Determine the mounting location and hold the mounting base in the position.

Power on the display, temporarily connect the camera to it, set the camera in the mounting base (with gasket attached), and observe the view. If the location is satisfactory, prepare to attach the camera and route the cable(s).

Mark the four (4) mounting holes using a marker or pencil.

If the cable goes through the center cable hole and into a panel, mark the center cable hole as well.

If applicable, drill out the marked center hole using a 3/4" drill bit. Smooth any sharp edges or burs to prevent damage to the cable.

If the camera cable exits through the cable grove in the mounting base, instead of through the mounting surface, the cable must be routed through the cable grove before attaching the mounting base to the mounting surface.

Align the camera base over the marked screw holes. Using a drill with a Phillips bit, install the four (4) self-tapping mounting screws.

Connect the camera to the cable connected to the DVR unit.

Hold the camera ball and feed any excess cable through the hole or cable grove in the mounted base until the camera ball is resting on the center of the mounting base.

Place the camera cover over the camera ball. Loosely tighten the three (3) set screws holes using a 1.5mm Allen wrench. Be certain the camera ball can move freely until the aim is determined and then set.

Power on the monitor display to view the live camera image and make any needed adjustments.

When finished aiming, fully tighten the three (3) set screws.