AHD Side Camera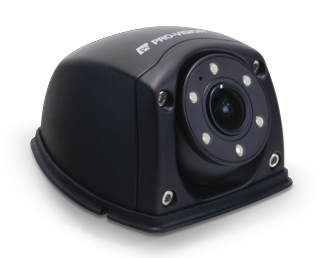 The AHD Side Camera (Kit P/N: DVR-920 (9000167), Camera P/N: PC-1920 (8010033)) provides coverage for the vehicle exterior. The camera is waterproof with a built-in microphone and an IP‑67 rating. The wide-angle lens has 145° horizontal and 80° vertical coverage. The camera is designed to be mounted directly to a vehicle's exterior body panel. Six (6) infrared (IR) LEDs provide light in low light/dark conditions.
Mounting Location and Installation:
The camera's wide field-of-view allows flexible mounting for a down‑facing or rear-facing configuration while still providing coverage for the side of the vehicle. For typical down-facing, recording applications, the camera is mounted to the roof or side of the vehicle body. The camera should be mounted as close to the outside edge of the roofline as possible to prevent blind spots. For rear-facing applications, using the camera and a monitor to cover blind spots, the camera should be mounted as far toward the front of the vehicle as possible. In determining the best mount area, consider how spray and debris from the tires affects the camera image. To minimize this issue, mount the camera a minimum of 3 feet off the ground. Also, ensure there is adequate access under the unit to route the cable.
Remove the four (4) Allen head cover mounting screws and the camera ball and cable.

Using just the camera base and gasket, determine the best mounting location, then mark the three (3) camera base mounting screw locations and the center of the cable exit hole in the base.

Power on the display, temporarily connect the camera to it, set the camera in the mounting base (with gasket attached), and observe the view. If the location is acceptable, prepare to mount the camera and route cable(s).

Before drilling holes, ensure there is adequate clearance for mounting screws and running cable.

If you are certain of the cameras mounting location, drill the center cable hole with a 3/4" or 7/8" drill bit, and (it is also recommended) to pre-drill the three (3) mounting screw holes with an 1/8" drill bit.

Route the cable through the base and gasket, and then through the cable hole in the mounting surface.

Use the mounting hardware provided to attach the camera base to the mounting location.

Attach the camera cover to the camera with the four (4) Allen head mounting screws. Leave the screws slightly loose until the camera aim is completed.

Power on the display and view the image live to make any adjustments as needed.

Once the aim is complete, tighten the four (4) Allen head mounting screws to lock the camera aim/view.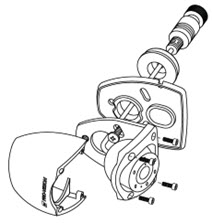 Driver's Side, Downward Camera View