AHD Marker Light Camera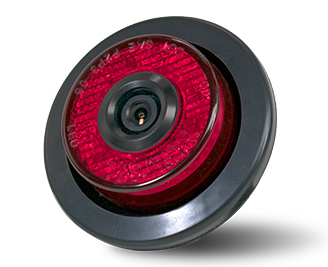 The AHD Marker Light Camera (Kit P/N: DVR-910 (9000163), Camera P/N: PC-1910 (8010029)) is designed to be mounted in an existing 2" marker light hole in the rear body of the vehicle to replace a standard 2" marker light. The camera is used most often as a backup camera and replaces a marker light in the rear bumper. This camera is primarily used because it does not require any holes to be drilled in the vehicle body and is typically very durable because the marker lights are typically mounted in a protected area on the rear of the vehicle. The camera lens has a wide 145° horizontal and 80° vertical coverage.
Mounting Location and Installation:
The camera mounts in an existing 2" marker light hole. The camera can be rotated 360° for proper aim but cannot be tilted at an angle. If possible, the camera should replace the center marker light to provide the driver with the most natural view.
Locate the desired mounting location and remove the existing light to check for proper clearance for the camera body.

Disconnect the wiring from the original light, then remove it and the grommet.

Assemble the camera to the light assembly using the 4 mounting screws.

Install the new grommet into the hole.

Connect the red 12V LED power wire and black ground wire from the light assembly to the existing wiring through the grommet.

Slide the camera cable into the hole in the back of the grommet.

Connect the camera connector to the cable running to the DVR unit. If it is not yet installed, install the cable at this time.

Press the camera light assembly into the grommet and rotate the camera until the white dot is at the top.

Power on the monitor/display to view the camera image live and to adjust the camera so it is level by rotating the camera light assembly in the gasket.

The camera can also be used to replace 2.5" marker lights by using the included 2.5" marker light grommet and installing the 2" grommet, light, and camera assembly into it as shown below.