Overview:
The AHD Side Camera (Kit P/N: DVR-920/9000167, Camera P/N: PC-1920/8010033) is designed for direct mounting to the vehicle's exterior body panel to provide an outside view. The camera is waterproof rated IP‑67, has a wide‑angle lens with a 145° horizontal and 80° vertical coverage area, a waterproof microphone built into the camera housing, and six (6) infrared (IR) LEDs for illumination during low light/dark conditions. The camera can be used with an optional Roof Mount Bracket (8090407) to allow mounting for additional applications. This bracket is specifically designed for use on Ford Explorer Utility vehicles for roof mounting across the roof seams but it isn't limited to just that application.
Mounting Locations:
The camera's wide field-of-view allows for flexible mounting with a downward-facing or rear-facing arrangement while still providing exceptional side coverage. For downward, outward facing applications, the camera is typically mounted directly to the roof or to the side of vehicle near the roof. It should be mounted close to the outside edge of the roofline to prevent blind spots next to the vehicle. In rear-facing applications, when using the camera to cover blind spots in combination with a monitor, it should be mounted as far forward on the front of the vehicle as possible. Considering how spray and debris from the tires could affect the camera image, it is recommended to mount the camera a minimum of 3 feet from the ground. Always check the mounting surface under the camera to ensure necessary access for routing the cable.
Installation:
Disassemble the AHD Side Camera and install the camera base to the Roof Mount Bracket using the included hardware as shown below. Reassemble the AHD Side Camera.
Temporarily connect the AHD Side Camera to a DVR or Monitor and determine the mounting location by holding the AHD Side Camera and Bracket to the vehicle body. The camera is typically mounted on the roof of the vehicle. Make sure the four (4) corner mounting screws and the center cable hole will not interfere with the airbags.
After the desired mounting location has been verified by looking at the image on the DVR or Monitor, mark and drill a 3/4 inch hole in the vehicle body for the camera connector.
Route an extension cable from the cable hole just drilled back to the DVR or Monitor.
Connect the camera connector to the extension cable and tuck the remaining cable into the vehicle body. Press the rubber grommet on the camera cable into the cable hole.
Attach the camera and bracket to the vehicle using the included four (4) Tek Self-Drilling screws.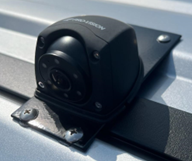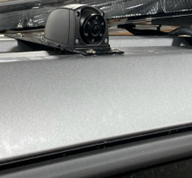 ________________________________________________________________________________________________________________