Overview:
The AHD Mirror Mount Side Camera Kit (PC-1924, P/N: 9000590) is designed to attach to mirror arms used on large commercial vehicles for mounting various, multiple mirrors. It provides 145° horizontal and 80° vertical field of view. The IP69K rated waterproof camera can be mounted using clamps or screws. The Kit includes parts for both clamp and screw mount options. The addition of the Mirror Mount Side Camera provides better side vision to the driver for safer vehicle operations and better-quality video capture.
Mounting Location:
The camera attaches to the mirror arm of a vehicle. It can be used for different mirror arm models. The hose clamp mounting option can be used for mirror arms with a circumference of 1" to 2" (recommended).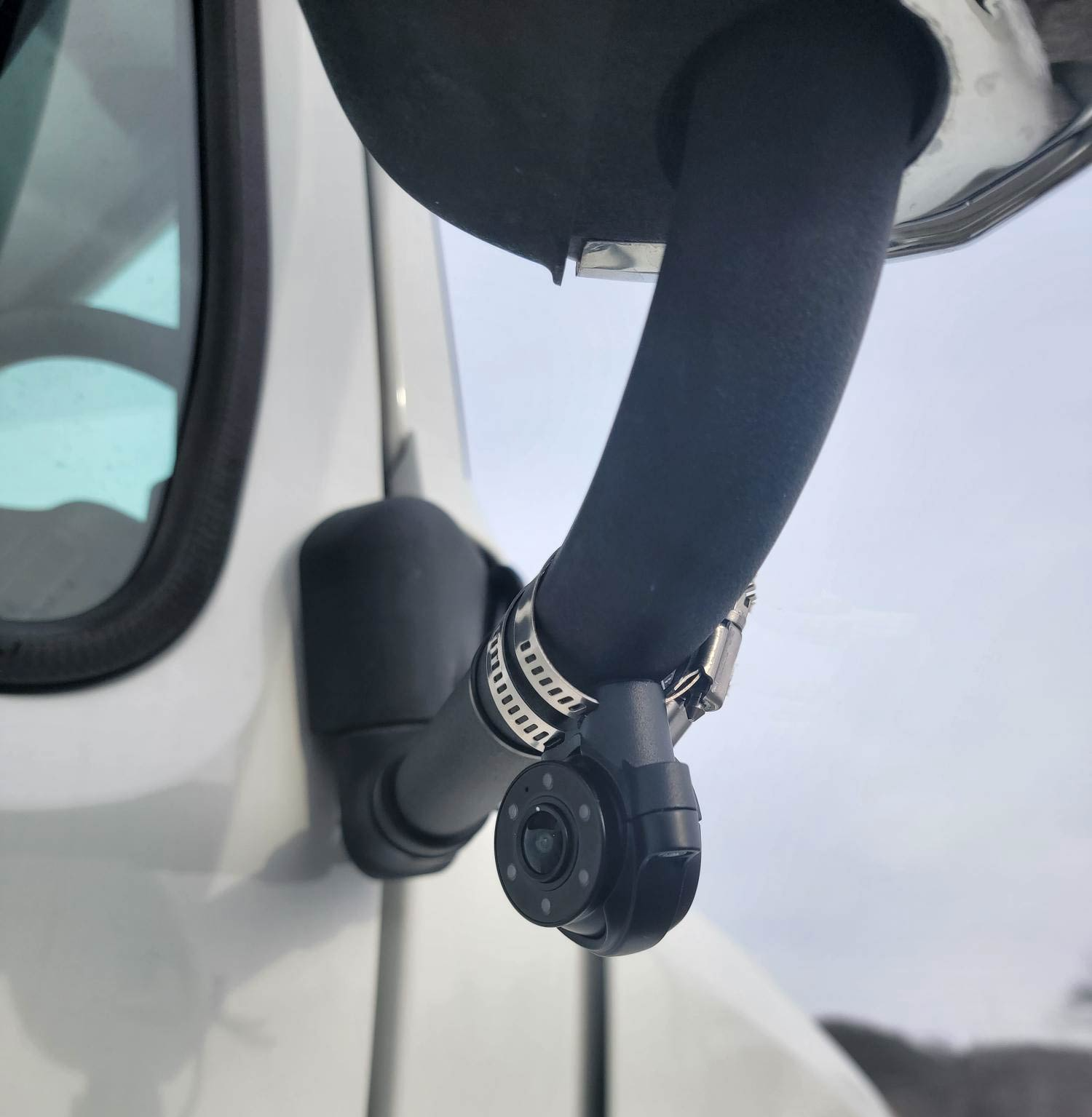 Hose Clamp Mount Option
Wrap mirror arm with the rubber adhesive strip to protect it from the hose clamp. Mount the bracket to the mirror arm with the hose clamp.

The component is shipped partially pre-assembled with the rubber pad between the bracket and the mirror arm.

Insert the rubber grommet into the top bracket.

Position the camera in the top bracket and loosely secure the bottom bracket (to allow camera angle adjustment). If correctly positioned, the outer rim of the bracket should line up on the top and bottom.

Route cable so that it is not pinched during camera operation. One option is to drill through firewall (engine) to avoid the driver door when running cables.
Screw Mount Option
Install the Mounting Bracket (Top) to the mirror arm using the included self-drilling screws.

Assemble the rest of the bracket.

Do not use both clamps and self-drilling screws to mount to a vehicle's mirror arm.

Rubber adhesive is not required for the screw mount option.